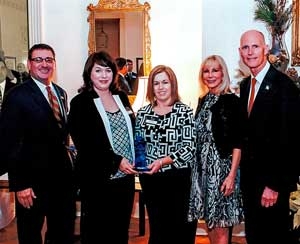 Florida Governor Rick Scott announced the 2012 Governor's Innovators in Business winners on Dec. 10, recognizing Q4 Services as the 2012 Governor's Export Excellence Award recipient in the mega market category.
Ninety percent of Q4 Services' sales are exported out of Florida, and the company typically wins programs based on past performance and its proposal processes. Q4 Services is known in the industry for quality products and extraordinary service, and has achieved this great commendation from Enterprise Florida.
The awards, organized by Enterprise Florida, the state's economic development agency, recognize outstanding contributions toward improving and diversifying Florida's economy.