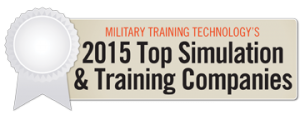 Q4 Services was selected as a Top Simulation and Training Company for 2015 by Military Training Technology (MT2) magazine.
The companies featured on the list come from all over the world and are making significant impact on the military training industry in broad range of areas including live training, modeling, simulators, distance learning, geospatial intelligence, image generation and other training components.
An industry-leading visual display solutions company, Q4 has been awarded this distinction every year since 2012.
"We're committed to providing high-performing, cost-effective visual display solutions to help both military and civilian pilots train in an environment that's so real, they forget they're still on the ground," said Brian Simpson, Q4's president and CEO. "It truly is an honor to be recognized, and we look forward to living up to the expectations that got us here in the first place."
MT2 notes that the companies who are chosen for this honor are making a difference to U.S. soldiers, sailors, airmen, Marines, and Coast Guardsmen as they train and rehearse for missions in theater, or to prepare for deployment at home station.