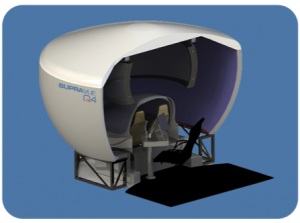 Q4 Services continues to expand its product portfolio with the launch of the world's first high performance collimated visual display specifically designed for single-seat and small twin-seat aircraft.
The modular and compact design of the SupraVue® 7-foot display shares the features of Q4's market leading SupraVue® product line. With Level D optical performance, SupraVue® GA creates a highly immersive environment ensuring the most realistic training delivery possible.
"Q4's SupraVue® GA offers the unique combination of compact size and high performance collimation, presenting the most realistic training environment available for single-seat and small twin-seat military and commercial training devices," said Brian Simpson, President & CEO, Q4 Services LLC. "Q4's cost-effective SupraVue® GA product enables lower-priced fixed base training devices to benefit from a high performance collimated visual display environment."
Full flight simulator capable versions of the 7-foot display system can also be supplied.
Q4 is exhibiting at I/ITSEC 2015 in Orlando, Florida, Nov. 30 – Dec. 4, in booth #2069.
For more information, please contact Q4 Services' Brian Taylor at +1 407- 382-4000 or brian.taylor@q4services.com