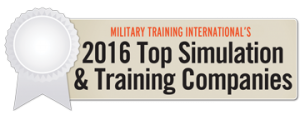 Q4, an industry leader of innovative visual display solutions, has been recognized by Military Training International (MTI) magazine as one of this year's top simulation and training companies for making a significant impact in the military training industry.
"Q4 is very proud of the innovative work we do and excited that MTI has chosen Q4 to be recognized amongst the best simulation and training companies," said Joe Radosky, Q4 head of sales. "We'll continue to work hard to produce industry-leading visual display solutions that increase the quality of training for our customers."
A complete list of the "2016 Top Simulation & Training Companies" and Q4's listing can be found in the September issue of the Military Training International magazine.