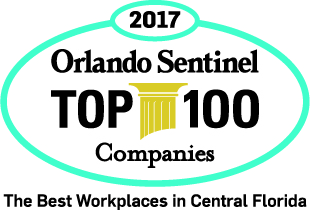 Q4 Services, the leader in innovative, high performance visual display solutions, was recently selected as one of the 2017 Orlando Sentinel Top 100 Companies.  
The survey and award program was designed to identify, recognize and honor the best places of employment in Central Florida, benefiting the region's economy, its work force and businesses.
"The Central Florida region is home to many strong businesses, and we are very honored to be recognized with this award," said Brian Simpson, Q4 president and CEO. "This award is due, in no small part, to our talented and dedicated staff who continue to work hard and execute our vision. They are instrumental to our success."
 
Organizations from across Central Florida participated in a two-part survey to determine the Orlando Sentinel Top 100 Companies. The first part consisted of evaluating each nominated company's workplace policies, practices, philosophy, systems and demographics, while the second part consisted of an employee survey to measure the employee experience. The combined scores determined the top organizations and the final ranking.
 
Public announcement of the list and rankings of the annual Orlando Sentinel Top 100 Companies program was published in the Orlando Sentinel on August 20, 2017.