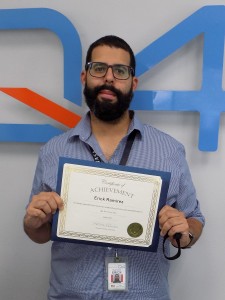 I am pleased to announce that Erick Ramirez is the the winner of the March Reward and Recognition Program!
Erick Ramirez has been working tirelessly over the past 4 months generating documents, assembling product, testing product and attending numerous meetings to accomplish all the tasks required to move the L3H program into the FAT event.  Erick's strong work ethic and rapport with the customer has enabled Q4 to achieve many milestones within this project even during the COVID-19 restricted work hours and mandatory social distancing.  Erick has continued to portray a positive outlook on the project and with his coworkers even though the challenges faced over the last 90 days, in particular, have been very stressful, demanding and extremely long hours.  Erick has demonstrated a level of commitment and dedication to Q4 and our customer that should be recognized for this challenging and demanding program.
To recognize this accomplishment, Erick will receive a certificate of achievement as well as gift cards for dinner and Target.  Erick is eligible for the President's Award for Excellence which is announced in December 2021.
Please help me in congratulating Erick Ramirez on this accomplishment!  Thank you for your hard work!