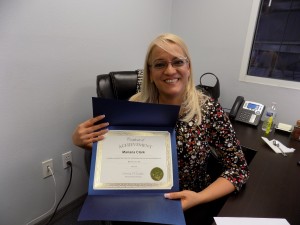 I am pleased to announce that Mariana Clark is the winner of the April Reward and Recognition Program!
Mariana has become the focal point for our manufacturing and production stability while utilizing the company IMS. She's is pivotal in our path forward to accurate cost controls, overall department product delivery schedules based off contractual commitments and customer expectations.  Mariana is always eager to lend a hand to anyone who should ask and continually request additional task to support the company goals.  Mariana is a key element to the current company success with on time delivery and manufacturing cost capturing utilizing the detailed product travelers.  Mariana's enthusiasm for her job, attention to detail and commitment to team work has allowed Q4 to continue our path in the right direction of success.
To recognize this accomplishment, Mariana will receive a certificate of achievement as well as gift cards for dinner and Target.  Mariana is eligible for the President's Award for Excellence which is announced in December 2021.
Please help me in congratulating Mariana Clark on this accomplishment!  Thank you for your hard work!