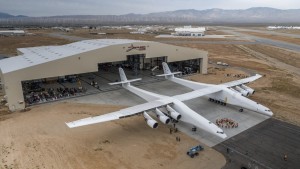 Q4 Services is pleased to announce it has been contracted by Stratolaunch to supply a Level D SupraVue 200×40 degree FOV Collimated Visual Display system (VDS) utilizing the latest Barco 4k technology along with a Scalable Displays auto alignment system. Q4 will work with the Stratolaunch team to deliver the highest quality immersive training environment for the Carrier Aircraft pilot training program.
Stratolaunch designs, manufactures, and launches aerospace vehicles and technologies to fulfill several important national needs, including the need for reliable, routine access to the hypersonic flight environment to significantly advance the nation's ability to design and operate hypersonic vehicles.
Q4 Services, Inc. is a leading global supplier of high performance technically innovative visual solutions, including Collimated and Direct projection Visual Display Systems, Mylar Reskins, Projector Updates, Back Projection Screens (BPS) along with training device Relocation and Certification Support Services to support the commercial and military simulation markets.  Visit www.q4services.com for more information regarding Q4's capabilities and expertise.