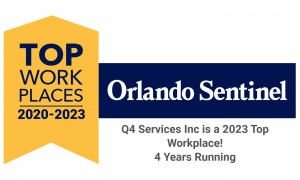 Orlando, Florida, October 02, 2023 ‐ Q4 Services Inc. has been awarded a Top Workplaces 2023 honor by Orlando Top Workplaces. The list is based solely on employee feedback gathered through a third‐party survey administered by employee engagement technology partner Energage LLC. The confidential survey uniquely measures 15 culture drivers that are critical to the success of any organization: including alignment, execution, and connection, just to name a few.
"Q4 is deeply committed to a people‐first, collaborative, inclusive environment," noted Mike Ponder, Q4 President and CEO. "This recognition for key aspects of our culture is especially impactful knowing that the award is based solely on the feedback of our very talented employees." "Earning a Top Workplaces award is a badge of honor for companies, especially because it comes authentically from their employees," said Eric Rubino, Energage CEO. "That's something to be proud of. In today's market, leaders must ensure they're allowing employees to have a voice and be heard. That's paramount."
ABOUT Q4 SERVICES INC.
 Q4 Services, Inc., a Service‐Disabled Veteran Owned Small Business, is high performance supplier of technically innovative and unique visual solutions for the military and commercial simulation and training industry. As a market leader, Q4's flexibility, cost‐effectiveness, and the ability to design and manufacture in‐house, provides high products that are quick to ship, and fast to install. Q4's leading edge and high-performance collimated products and services have been delivered in North and South America, Europe, Asia, Africa, Middle East, and Australia. Q4 offers a depth of experience and expertise that is unmatched in the industry. Leveraging superior customer service, agility and flexibility, Q4 will always meet or exceed clients' expectations.
COMPANY CONTACT
Q4 Services Inc.
info@q4services.com, 407‐382‐4000
q4services.com
 ABOUT ENERGAGE
 Making the world a better place to work together.TM Energage delivers the most accurate competitive benchmark available. For more information or to nominate your organization, visit energage.com or topworkplaces.com.