Projector and monitor upgrades for optimal performance.

Fixed Monitor Replacement Projector
Q4 provides upgrades and modernizations to projectors and collimating displays fitted to a number of devices and various global training centers.
Optical Blinders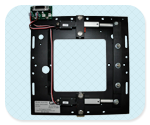 Low Cost Level D
Projector Solution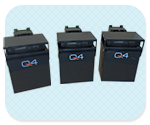 Pan & Tilt Controller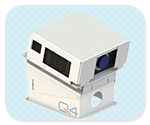 For more information about these products, please contact us today.
Fixed Monitor Replacement Projector
Q4's Fixed Monitor Replacement Projector (FMRP) solution is a cost-effective technology upgrade for the replacement of legacy monitor display equipment that delivers a significantly improved, high quality image.
A ruggedization process is carried out on each installed digital light processing (DLP) LED (lamp-free) projector to ensure a long, reliable operational life when installed on a full flight simulator.
Supports both night vision goggles (NVG) and non-NVG configuration FMRP retrofit solutions for several monitors, including Vital, CSM, XKD, and SRL.

Improves projected image

Reduces maintenance life cycle cost

Reduces downtime

Incorporates a unique Q4 dynamic illumination systemI for increased luminance of more than 30 ft lamberts

Integrates and includes a Remote Alignment Control Unit (RACU)